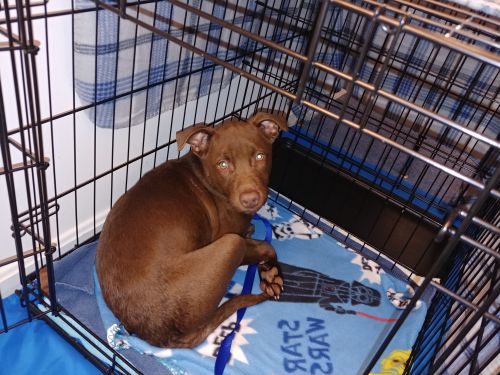 Posted 12/19/2019. Reese's is a 6 month old Lab/Terrier mix. He favors a Chesapeake Bay Retriever with his coloring and webbed front feet. He currently weigh 30 lbs but still has more growing to do. He is a sweet and lovable boy who does not have a mean bone in his body. Reese's enjoys being around his people and LOVES kids (currently living with a 4 and 6.5 year olds).
He does a great job by going to the door when he needs to potty, although he occasionally still has accidents. He loves to go for walks and does pretty well on leash, and his foster mom is providing some training in this area. He loves to play fetch and chew his favorite toy, a squeaky elephant.
While he can have lots of energy, he settles down quickly and loves to snuggle next to you on the couch or chew on his toys. Since he is still a puppy, he is crated anytime his foster mom leaves the house. He is curious about everything and loves to put things in his mouth. He is crate trained and sleeps in his crate at night. If you are looking for a family dog that is great with small kids or kids of any age, Reese's is the pup for you!
Adoption application, home visit and adoption fee required. If you would like to apply for adoption, please complete the online application at www.furryfriendsnetwork.com. Look under ADOPT tab. Please also read our Core Values prior to applying. Contact generalinfo@furryfriendsnetwork.org for questions or if issues are encountered with the adoption application or general adoption process.
Foster Homes are desperately needed in order to help more animals like this one. Please consider opening your heart and home to a homeless animal. To find out more about becoming a Foster Parent, see our website at www.furryfriendsnetwork.com. Look under VOLUNTEER tab.
As part of our adoption agreement, we require that you and your adopted canine attend a minimum of one group basic obedience course within 4 months of adoption. If adopting a puppy under 4 months old, we also require a group puppy socialization course be started immediately upon adoption.
In addition, we require that puppies under 6 months of age will not be alone for more than 4 hours at a time in an 8 hour workday. We highly encourage working families to consider older puppies and adult dogs, but if your heart is set on a puppy, please consider doggie daycare.
Pet ID: Patty K
---