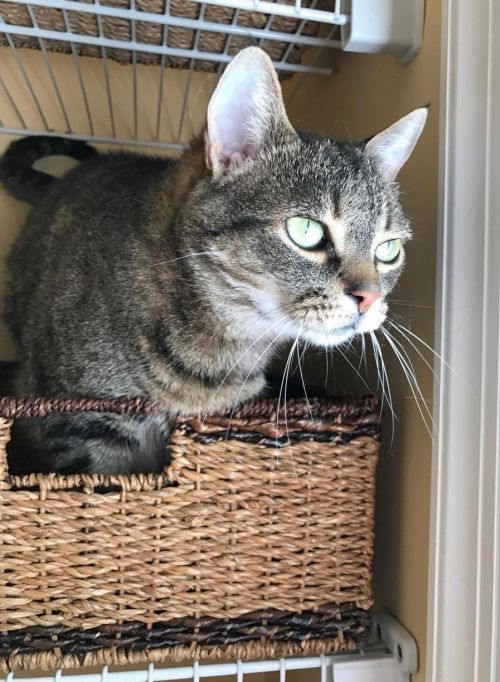 Paisley is a wonderful young girl looking for a loving and lasting forever home. She was adopted previously but then found as a stray. Her adoptive owner did not care for her or want her back when she was found. While out on her own, we believe that Paisley had a run in with another stray cat with feline AIDS (feline FIV). When Paisley came back into our care, she tested positive for FIV.
Paisley is approximately 2 years old with a petite frame. In fact, her rescuer thought she might be a kitten but the vet estimated her age as 2 years old. Paisley is very sweet with a friendly demeanor and is very affectionate and talkative. She likes to "head bump" a lot and rub up against your legs. She enjoys being petted and purrs when she eats. She also kneads frequently when you love on her.
Please don't let Paisley's FIV status deter you. Cats with FIV can live normal, health lives just like other cats. Paisley is currently doing great now that she is in a caring foster home. She should not be in a home with other non-FIV cats but can be with other cats with FIV. Paisley wants nothing more than to be loved and have a good home. We know the home that Paisley finds will be just as grateful to have her as Paisley will be to live there.
This kitty has had vaccinations, de-worming, flea preventative, and been micro-chipped and altered.
Adoption fee is 1/2 off for the second kitty adopted at same time. Adoption application, phone interview, home visit, and adoption fee required (+ PA Sales tax).
If you are interested in adopting a kitty(s), we ask that you complete an on-line adoption application to get the process started. To apply, simply go to www.furryfriendsnetwork.com / ADOPT tab / CAT Adoption Application. You will receive a welcome email once your application has been assigned to a volunteer processor (this should be within 72 hours of submitting an application). If you do not receive such an email, contact catapplication@furryfriendsnetwork.org. Once your application has been processed (this can take approx. 10-14 days), we will arrange contact with the foster to schedule a time to meet kitties you might be interested in. We are an all volunteer organization and appreciate your patience during this process.
Foster Homes are needed in order to help more animals like this one. Please consider opening your heart and home to a homeless animal. Check out our website on how to become a Foster Parent! Visit www.furryfriendsnetwork.com and look under VOLUNTEER. Furry Friends Network provides our foster homes with food, litter, crates/carriers as needed and miscellaneous other supplies as well as veterinary care.
Bookmark our website to stay up to date on news, events, and fundraisers. Visit https://www.furryfriendsnetwork.org/.
You can also Like us on Facebook and follow us on Twitter.
Paisley_ElaineR
---