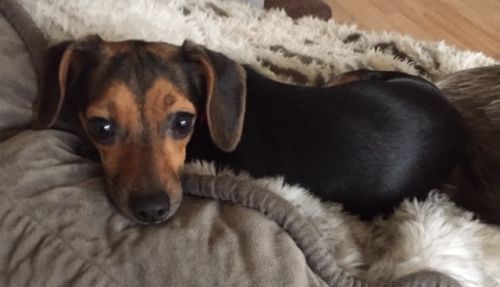 Posted 12/26/2019. Nikki is a precious little girl who came from a hoarding situation. She is frightened in new situations and needs a home where she will be socialized and given lots of attention. In return, this little girl will bring great joy into your heart as she has to her family in her foster home. Josie is tiny, weighing less than 10 pounds. She is a mixture of a Dachshund and Chihuahua, looking more like a Dachshund with her long body and sweet face. She is about 11 months old, soon will be celebrating her first birthday. She is friendly with other dogs, but not so sure about humans. She is looking for a home where someone will have the time to hold and cuddle her and get her used to living with humans. Presently she does snuggle with her foster humans at night time, but during the day is still trying to adapt to life in a home with people coming and going. She's quite comfortable with her dog friends, just not so sure about the people. With time, she does begin to trust, but will need much patience and devotion from her adopter. If you have the time and patience to be involved in her transformation, please make arrangements to meet her and see what you think!
Adoption application, home visit and adoption fee required. If you would like to apply for adoption, please complete the online application at www.furryfriendsnetwork.com. Look under ADOPT tab. Please also read our Core Values prior to applying. Contact generalinfo@furryfriendsnetwork.org for questions or if issues are encountered with the adoption application or general adoption process.
Foster Homes are desperately needed in order to help more animals like this one. Please consider opening your heart and home to a homeless animal. To find out more about becoming a Foster Parent, see our website at www.furryfriendsnetwork.com. Look under VOLUNTEER tab.
As part of our adoption agreement, we require that you and your adopted canine attend a minimum of one group basic obedience course within 4 months of adoption. If adopting a puppy under 4 months old, we also require a group puppy socialization course be started immediately upon adoption.
In addition, we require that puppies under 6 months of age will not be alone for more than 4 hours at a time in an 8 hour workday. We highly encourage working families to consider older puppies and adult dogs, but if your heart is set on a puppy, please consider doggie daycare.
Pet ID: Stephanie G
---