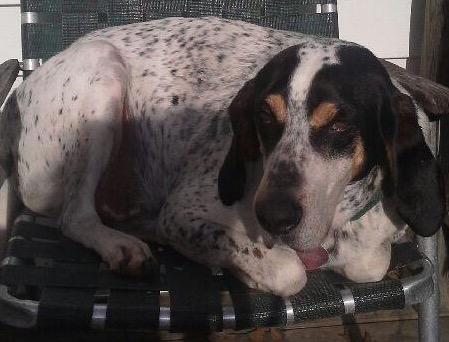 Update 2/19/2017. Mickey continues to wait patiently for his adoptive home. He is doing great in his foster home but would love to find his forever family. He loves chewing, especially his beef bones. He is a very curious guy and his foster mom thinks he likes to see what is on the inside of things, thus in need of his crate when not hanging out with his people. Mickey is a great hiking companion, and is ready to join you on a hike anywhere and anytime of year!
Update 4/17/2016. Sometimes I lay in the sun and dream of the family who will adopt me. They will love being outdoors with me in our fenced yard. They'll chuckle when I chase squirrels and bunnies. When I'm tired from playing outside, they'll cover me with my very own blanket during naptime. I LOVE to sleep with a blankie. I'll have my very own crate so I'm not scared when they leave for the day. I'll chew bones, one of my favorite activities, and play and snuggle with their other dog. If I'm really lucky, they'll give me treat puzzle toys too.
My foster mommy says I'm such a good boy and have made progress with my anxiety. She gives me pills occasionally when it's stormy outside or when humans set off fireworks. She told me I have the longest, softest ears she's ever seen. She also said I'm cute and huggable. Sometimes a little human comes to visit. I am very good around the little human but I like dog friends best.
Update 12/14/2015. Hi, Mickey here. It has been quite awhile since my last update but I am still here and very much looking for a furever home. I am an 8 year old Bluetick Coonhound. I love other dogs and make friends easily; however, I shouldn't be in a home with cats or other small critters as they are just too tempting to me. I love nothing more than having a nice big yard to hang out in and spend beautiful days laying in the sun. I am good on leash, but remember, I am a hound, so I follow my nose. I like to go places in the car as well. I am not a fan of thunderstorms and do have some separation anxiety, so I will need a home that is patient and will love me despite my anxiety. Sometimes it takes me awhile to warm up to new people and situations, but I am a very friendly guy and once I know we will become fast friends.
Update 6/3/2014. Mickey is a wonderful, loving dog and does well with dogs and children. Mickey is not compatible with small creatures (cats, bunnies, hamsters) and needs a household without. He will crawl on your lap and give hugs, and he enjoys meeting new people. Mickey likes to chew bones. He currently needs a little supervision as he will trot away with a sneaker or purse on occasion. He is a very smart boy and quickly learning the difference between toys and personal items. Mickey may do best with a secure fence as he does look for escape routes and loves to be outside. Mickey is looking for a family who will spend time with him to perfect his manners. His new family would be lucky to have him.
Adoption application, home visit and adoption fee required. If you would like to apply for adoption, please complete the online application at www.furryfriendsnetwork.com. Look under HOW TO ADOPT
Foster Homes are desperately needed in order to help more animals like this one. Please consider opening your heart and home to a homeless animal. Check out our website on how to become a Foster Parent, www.furryfriendsnetwork.com. Look under VOLUNTEER
Pet ID
Holly Brown
---