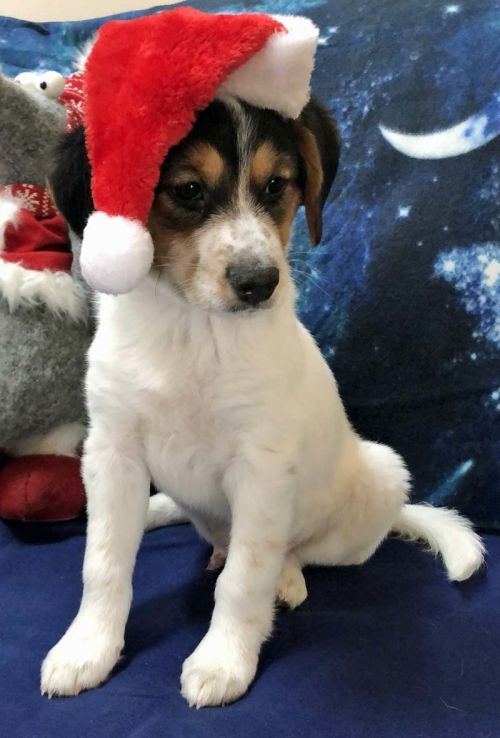 Posted 12/19/2019. Three puppies – lucky to be alive. Following is information given to us from the shelter they came from.
"There are three puppies, two girls and a boy. They were pulled from under an outbuilding and had not been handled until yesterday. But they are curious little tykes, probably 6-7 weeks old. I'm so glad that we got them out from under that building not only to socialize them but to save their lives from the worms they had. Poor little things would have died from worms! They were pulled out of some of the worst circumstances ever, but they are now safe. They would not have lived had we not got them from under the outbuilding and treated and cared for them."
Now these puppies have a bright future ahead of them. Laddie is quite a handsome boy, the protector of his two sisters, and a charming pup himself. He is friendly and outgoing and enjoys receiving attention and affection. He weighs about 12 pounds at three months of age, and is a beagle mix pup. He is quickly adapting to life in a home and is friendly with adults, children, and other dogs as well. He has a laid-back personality and fits in well in any situation. Laddie loves to run and play, enjoys stuffed toys, has fun wrestling with his littermates, then takes a nice long snooze. He will be ready for adoption in January, and needs a home where his family will be with him as much as possible. So we are looking for a home where his humans will not be away more than four or five hours a day. He still needs training and socialization and lots of attention to make up for his earlier days when he was living underneath an outbuilding.
Adoption application, home visit and adoption fee required. If you would like to apply for adoption, please complete the online application at www.furryfriendsnetwork.com. Look under ADOPT tab. Please also read our Core Values prior to applying. Contact generalinfo@furryfriendsnetwork.org for questions or if issues are encountered with the adoption application or general adoption process.
Foster Homes are desperately needed in order to help more animals like this one. Please consider opening your heart and home to a homeless animal. To find out more about becoming a Foster Parent, see our website at www.furryfriendsnetwork.com. Look under VOLUNTEER tab.
As part of our adoption agreement, we require that you and your adopted canine attend a minimum of one group basic obedience course within 4 months of adoption. If adopting a puppy under 4 months old, we also require a group puppy socialization course be started immediately upon adoption.
In addition, we require that puppies under 6 months of age will not be alone for more than 4 hours at a time in an 8 hour workday. We highly encourage working families to consider older puppies and adult dogs, but if your heart is set on a puppy, please consider doggie daycare.
Pet ID: Stephanie G
---