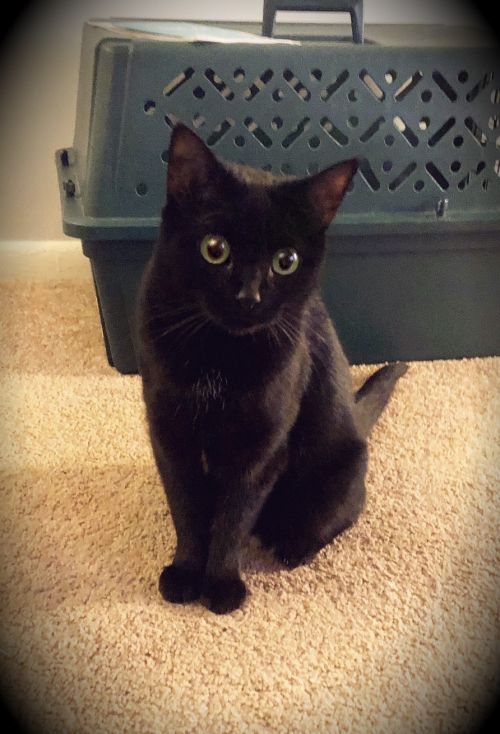 Approx DOB: Fall 2018
Jade was rescued from an unsafe location and was in very bad condition (nearly starved to death) when she first came to Furry Friends Network. She was nursed back to health by a rescuer before being placed in her first foster home. Jade gets along with other cats, but is a bit nervous around "alpha" cats. She is not aggressive, but tends to let herself be bullied by them. Jade and the resident cat at her foster home get along fine, and even sleep next to each other at night occasionally. Jade would do best in a home either as a single pet, or with one other chill cat in a quiet home.
Because she is still adjusting to life in a home, Jade is still learning how to cat. When she first arrived at her foster home, she seemed confused by toys and cat trees. She is making great progress though, and loves wand toys and small toys with catnip in them. She also loves sitting by the window with her resident brother and chattering at birds! She will not sit in your lap (yet!) but loves sitting next to you to get petted, and purrs loudly when she's getting attention. As mentioned above, at night she either sleeps on the couch with the resident cat, or in bed with her foster mom. Jade doesn't meow much, but she makes an adorable chirping sound when you talk to her. She does not mind being held and usually also purrs when she gets picked up! She also loves cardboard scratchers, and has not scratched any furniture or carpet in her foster home.
Jade is a wonderful, loving cat, especially considering the life she's had so far. We're sure she will make a fantastic pet!
This kitty has had vaccinations, deworming, flea preventative, tested negative for FeLV/FIV, has been microchipped and altered (or will be microchipped and altered prior to adoption).
Adoption fee is 1/2 off for the second kitty adopted at same time. Adoption application, phone interview, home visit, and adoption fee required (+ PA Sales tax).
If you are interested in adopting a kitty(s), we ask that you complete an on-line adoption application to get the process started. To apply, simply go to www.furryfriendsnetwork.com / ADOPT tab / CAT Adoption Application. You will receive a welcome email once your application has been assigned to a volunteer processor (this should be within 72 hours of submitting an application). If you do not receive such an email, contact catapplication@furryfriendsnetwork.org. Once your application has been processed (this can take approx. 10-14 days), we will arrange contact with the foster to schedule a time to meet kitties you might be interested in. We are an all volunteer organization and appreciate your patience during this process.
Foster Homes are needed in order to help more animals like this one. Please consider opening your heart and home to a homeless animal. Check out our website on how to become a Foster Parent! Visit www.furryfriendsnetwork.com and look under VOLUNTEER. Furry Friends Network provides our foster homes with food, litter, crates/carriers as needed and miscellaneous other supplies as well as veterinary care.
Bookmark our website to stay up to date on news, events, and fundraisers. Visit https://www.furryfriendsnetwork.org/.
You can also Like us on Facebook and follow us on Twitter.
Jade_DHocker
---