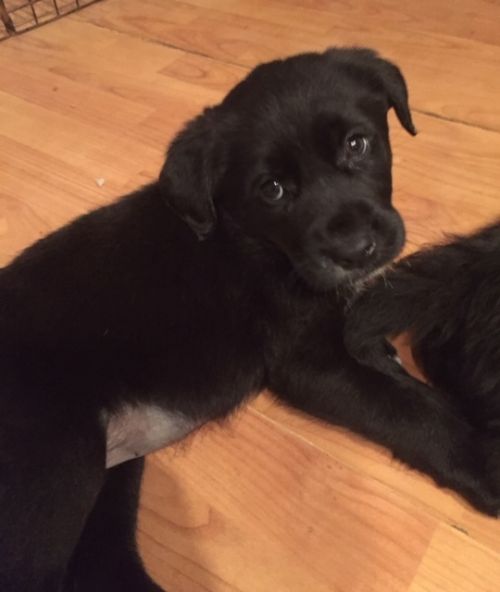 Posted 1/18/2020. In December just before Christmas a litter of eight puppies were dropped off at a shelter. Not the best place for these puppies to be, especially with Christmas coming. Fortunately Furry Friends Network was able to arrange foster care for this litter of eight, and now the puppies are growing and changing and having a blast in their foster home. They are a wild and crazy bunch of pups, but sweet and friendly as can be. They love people and crawl all over them when someone enters their puppy pen. They especially seem to love children. These precious pups are delightful and entertaining, and are now looking forward to finding loving homes of their own.
Hope is a sweet and precious short-haired female puppy with soft black fur. She looks like a little lab puppy, and we see signs of the lab personality in her. She loves people, is a little wiggleworm, and enjoys life to the fullest. She is curious about the world around her and loves to explore. Hope is one of the smaller sized pups, and we expect that she will probably grow into a medium sized adult dog. The puppies will need plenty of attention and lots of good care, training and guidance too. They have many lessons to learn, so we are looking for homes for them where human family members will have plenty of time to devote to their needs. If you would like to be considered as an adopter, and are not away from home more than five hours per day, please take the opportunity to apply and meet these little darlings.
Adoption application, home visit and adoption fee required. If you would like to apply for adoption, please complete the online application at www.furryfriendsnetwork.com. Look under ADOPT tab. Please also read our Core Values prior to applying. Contact generalinfo@furryfriendsnetwork.org for questions or if issues are encountered with the adoption application or general adoption process.
Foster Homes are desperately needed in order to help more animals like this one. Please consider opening your heart and home to a homeless animal. To find out more about becoming a Foster Parent, see our website at www.furryfriendsnetwork.com. Look under VOLUNTEER tab.
As part of our adoption agreement, we require that you and your adopted canine attend a minimum of one group basic obedience course within 4 months of adoption. If adopting a puppy under 4 months old, we also require a group puppy socialization course be started immediately upon adoption.
In addition, we require that puppies under 6 months of age will not be alone for more than 4 hours at a time in an 8 hour workday. We highly encourage working families to consider older puppies and adult dogs, but if your heart is set on a puppy, please consider doggie daycare.
Pet ID: Stephanie G
---