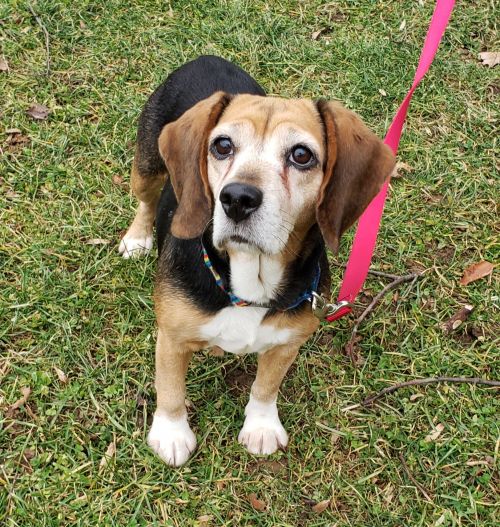 Posted 1/14/2020. This beautiful girl is Holly! This precious girl is pure sweetness and has just wrapped her foster family around her paw. Holly is a 6-8-year-old beagle, 23 pounds and is enjoying life to the fullest now. We're sure she's had puppies in the past, but those days are behind her and we're thrilled to offer her all the love and attention she deserves! Holly is house trained and crate trained, loves other dogs, is good with cats, and also great with all people. She is very playful, silly, and brings us so much joy. She is nurturing, and has taken the other beagle pup in her foster home under her wing. She follows him around, sleeps next to him, and plays with him. The bond she has formed with him is incredibly sweet to see and it's clear that she has a heart of gold. Another endearing quality is the way she snores when she's sleeping. It's heartwarming to see her relax and know she's safe and loved.
Holly is very smart and can't wait to attend obedience classes with her forever family! If you can provide this girl with the unconditional love she deserves, apply today. This girl is precious and will provide her forever family with joy, love, and companionship for years to come!
Adoption application, home visit and adoption fee required. If you would like to apply for adoption, please complete the online application at www.furryfriendsnetwork.com. Look under ADOPT tab. Please also read our Core Values prior to applying. Contact generalinfo@furryfriendsnetwork.org for questions or if issues are encountered with the adoption application or general adoption process.
Foster Homes are desperately needed in order to help more animals like this one. Please consider opening your heart and home to a homeless animal. To find out more about becoming a Foster Parent, see our website at www.furryfriendsnetwork.com. Look under VOLUNTEER tab.
Pet ID: Tammy B
---