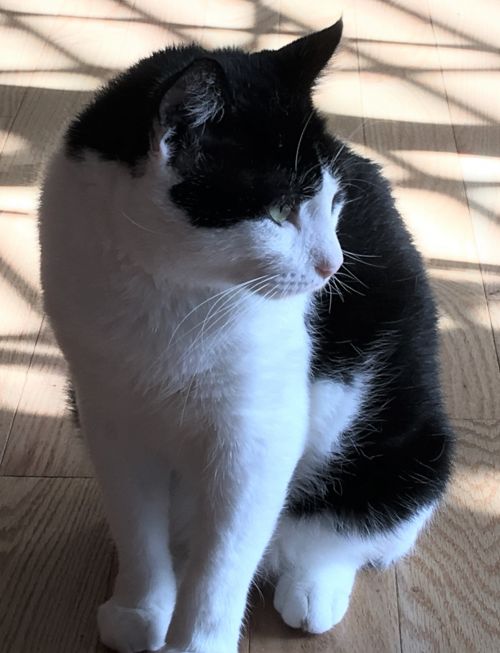 Approx DOB: 2013
Georgie was found injured beside the road on a dark rainy night. He was originally called Lonesome Lenny after the name of the road he was on. He first went to an emergency animal trauma center to check his injuries that probably were caused by being hit by a car. He had a broken eye socket and ulna. His fur was matted down and yellow from dirty road water. Georgie spent several months in a very large crate while his injuries healed. From the start he loved being petted and rolled over for belly rubs, and he loooves being brushed. He calmly accepted being bathed and his stringy yellowed fur became white and fluffy again and his black fur shiny.
Georgie's favorite toys are matchbox cars and trucks. He discovered they can be picked up by paws, a tap sends them across a room, and he can make them spin. Best of all, he doesn't have to share them with the other cats that don't know how much fun they are. He plays with toys on the floor…after months of resting his leg to heal, he only jumps as high as a chair or bed.
Georgie is a large lovable handsome cat about five years old. His favorite spot is a large cat bed near a window. He sprawls out rather than curling up or sitting up – he relishes having lots of space after the confines of a crate. He may prefer being in his cat bed, but still enjoys and expects physical attention. He'll let you know he wants petting by tapping your legs or hopping up to sit beside you. Rolling over on his back means a belly rub is wanted. He's always ready for a head rub by anyone passing by. He's an attentive kitty, meeting you at the door and greeting you in bed in the morning. His morning and evening treat is some wet cat food.
Georgie is an alpha cat who will do best as an only cat.
This kitty has had vaccinations, deworming, flea preventative, tested negative for FeLV/FIV, has been microchipped and altered (or will be microchipped and altered prior to adoption).
Adoption fee is 1/2 off for the second kitty adopted at same time. Adoption application, phone interview, home visit, and adoption fee required (+ PA Sales tax).
If you are interested in adopting a kitty(s), we ask that you complete an on-line adoption application to get the process started. To apply, simply go to www.furryfriendsnetwork.com / ADOPT tab / CAT Adoption Application. You will receive a welcome email once your application has been assigned to a volunteer processor (this should be within 72 hours of submitting an application). If you do not receive such an email, contact catapplication@furryfriendsnetwork.org. Once your application has been processed (this can take approx. 10-14 days), we will arrange contact with the foster to schedule a time to meet kitties you might be interested in. We are an all volunteer organization and appreciate your patience during this process.
Foster Homes are needed in order to help more animals like this one. Please consider opening your heart and home to a homeless animal. Check out our website on how to become a Foster Parent! Visit www.furryfriendsnetwork.com and look under VOLUNTEER. Furry Friends Network provides our foster homes with food, litter, crates/carriers as needed and miscellaneous other supplies as well as veterinary care.
Bookmark our website to stay up to date on news, events, and fundraisers. Visit https://www.furryfriendsnetwork.org/.
You can also Like us on Facebook and follow us on Twitter.
Georgie_JWallen
---