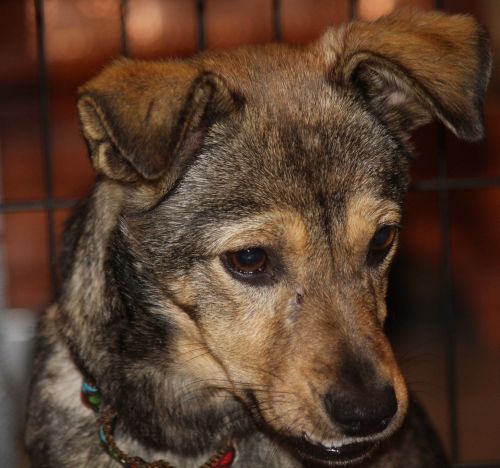 Posted 12/26/2019. Furry Friends Network saw the love in her eyes and took Darcy into foster care after she and her brother were dumped along side the road in West Virginia. Darcy is a 4 month old Shepherd Mix who is quickly learning how to be a fun-loving puppy. She is already crate trained and potties outside. We are working on exposing her to new things, like the leash, doggy toys and more. She's doing great with everything so far. We are excited to help her learn how wonderful life can be. Darcy's ideal home would include a confident dog, someone who can let her out multiple times a day, continue working on her basic obedience training, and give her lots of love, attention and patience. So far she's been great with the other foster dog in her foster home and the kitties too. She currently needs slow and patient introductions to new dogs midst all the new activities since coming into foster care. If you're interested in meeting and possibly adopting Darcy, please start your application now. Darcy deserves the most amazing family for the New Year!
Adoption application, home visit and adoption fee required. If you would like to apply for adoption, please complete the online application at www.furryfriendsnetwork.com. Look under ADOPT tab. Please also read our Core Values prior to applying. Contact generalinfo@furryfriendsnetwork.org for questions or if issues are encountered with the adoption application or general adoption process.
Foster Homes are desperately needed in order to help more animals like this one. Please consider opening your heart and home to a homeless animal. To find out more about becoming a Foster Parent, see our website at www.furryfriendsnetwork.com. Look under VOLUNTEER tab.
As part of our adoption agreement, we require that you and your adopted canine attend a minimum of one group basic obedience course within 4 months of adoption. If adopting a puppy under 4 months old, we also require a group puppy socialization course be started immediately upon adoption.
In addition, we require that puppies under 6 months of age will not be alone for more than 4 hours at a time in an 8 hour workday. We highly encourage working families to consider older puppies and adult dogs, but if your heart is set on a puppy, please consider doggie daycare.
Pet ID: Sharon J
---