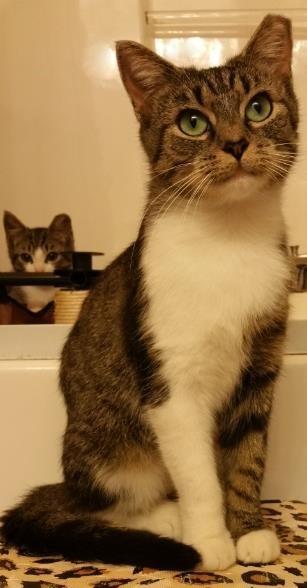 Approx DOB: November 2014
Hi, I'm Danika! But you can call me Dani… Dan… Dani Dan… Kitten… Baby Girl… I've got lots of nicknames. I look like a supermodel, but I'm really a tomboy because I'm not into drama or girly stuff. I'm small in size, but I make up for it with extra purrrsonality! I'm silly and goofy, always making my foster mom laugh. I sometimes even stand on my head and meow to get my foster mom's attention.
I like to play (especially in the morning) and I like to "make muffins" on anything soft and fluffy. I also really love watching bird TV from my second floor windows. But most of all, I like to be with my people. I'm looking for a forever home with someone who will always love me and promise to never put me outside again. That's all I need. And in return, I will love you furever.
UPDATE FROM DANIKA'S FOSTER MOM (September 2017):
During her 2 years in foster care, Danika has become very affectionate and very interactive with her foster family. She really enjoys spending time with her people, no matter what we're doing. She loves to give us head rubs and hugs (leaning into us so we can hug her), and brief visits on our lap. She loves stalking and chasing things of all shapes and sizes… but she also loves to just hang out with us while watching TV or reading. Unlike most of our previous fosters, she prefers playtime in the morning, and she's ready for bed around 9 or 10 pm. Dani gets along well with other cats, but is still nervous around dogs so she probably would not do well with a high energy or very vocal dog. She is a little shy at first, but doesn't take her long to warm up to new people. She is such a sweet and loving cat… we absolutely adore her, and you will too!
UPDATE FROM DANIKA'S FOSTER MOM (JUNE 2016):
Over the past few months, all of Danika's kittens have been adopted and they're doing GREAT. As a result, Danika can relax because she's no longer in "mommy mode." She has always been a very sweet little cat, but now she's become VERY affectionate and interactive. She loves to rub her head against mine and she loves to talk now too! Dani is such an amazing athlete and she's always ready to play. She is so much fun to be around, and the way she sits up on her back legs to play with her mice and springs is totally adorable. And, she occasionally does a slow-motion summersault, which is the cutest thing ever! She has so much personality packed into that little package… you just can't help but love her.
Danika is finally ready to find her forever home. Now that she's become so affectionate and enjoys human company so much, she sometimes can get a little possessive if another cat comes over while she's getting attention. It's nothing more than an occasional slap to the other cat, and I think this is something that will diminish after she's settled in her new home and she knows she will get all of the love and attention she needs. Other than that, Danika gets along very well with other cats but she's still a little nervous around dogs.
Danika is such a gorgeous, fun, silly and loving cat… she is going to make someone VERY happy!!
POSTED DECEMBER 2015:
Hi! My name is Danika McPurr, but my friends call me Dani. I had a human family for a while, but they moved away and left me behind with no food and no shelter, so I was on my own, living on 3rd street in Harrisburg. Then I got pregnant, and things got even harder. There were many nights that I went to sleep hungry, but I always had enough milk for my babies. I was trying to survive and keep my kittens safe, but the people there did NOT like cats, even though we never did anything bad.
One day someone started talking nicely to me and she left us lots of food! I didn't know if I could trust her or not, but we were so hungry, I decided it was a risk we should take. It was a terrifying day when I was trapped with two of my kittens (Ricky and Stella). I didn't know what would happen to us… and I was in total despair as my 2 other kittens (Toughie and Bandit) were left behind, with no one to keep them safe. Thankfully, we were reunited with Toughie the next day, and with Bandit the day after that. We were finally all together again, but terrified of what would happen to us next.
Over the next few weeks my kittens started to learn that people can be kind and loving too. And I began to trust that our foster mom was safe and would be kind to all of us. Our foster mom gives all of us lots of love, she plays with us every day, and she gives us hope that we will someday find a forever family that we can trust to love us and to keep us safe.
I'd like all of my kittens to be adopted before me, so I can see each of them off, and meet their new families. But when it's my turn, I'm looking for a forever home with someone who will have time to talk to me, play with me, give me lots of love every day… and promise to never abandon me. I really don't need much… I just need to feel safe and loved. I'm not a hyper cat, but my foster mom named me after Danica Patrick, the female racecar driver 'cause I definitely have the need for speed! Plus, she say's I'm the purrfect combination of extreme athlete and feminine beauty. I guess that's true 'cause I may be a momma cat, but I still LOVE to play and spring through the air as I take down my imaginary prey. And I am wickedly FAST.
Thank you for considering me… and if you think you might have room for two, please consider also adopting one of my kittens (Toughie McPurr, Stella McPurr, Ricky McPurr, Bandit McPurr) or our new foster roommate, Bear McPurr!
COMMENTS FROM DANIKA'S FOSTER MOM:
Danika is a very sweet little cat who has lived through so much in her short life, but is still willing to put her trust in people. She sits back to let her kittens take center stage when visitors are here, but she willingly comes out later to meet someone new. Danika is a calm and relaxed cat who is always ready to spring into action if anything moves. She LOVES to play, and she is wickedly fast… but she always lets her kittens have toys, food and treats first.
Danika has intense, bright green eyes and a quiet, but loving demeanor. She sometimes gets quite silly and animated too… making me laugh out loud when she starts her silly antics. She is the perfect blend of extreme athlete with elegant grace and beauty.
Danika needs a family who will be willing to give her a little time to adjust to a new home and bond with someone new. She gets along very well with other cats but is scared of dogs and immediately goes into protection mode when she hears our dogs near the foster room. I think she might be able to adjust to life with a dog, if it had a calm demeanor.
If you are looking for a gorgeous, active, and affectionate young cat who loves to play, please consider adopting Danika.
This kitty has had initial vaccinations, de-worming, flea preventative, tested negative for FeLV/FIV, and been micro-chipped and altered (or will be micro-chipped and altered prior to adoption).
Adoption fee is 1/2 off for the second kitty adopted at same time. Adoption application, phone interview, home visit, and adoption fee required (+ PA Sales tax).
If you are interested in adopting a kitty(s), we ask that you complete an on-line adoption application to get the process started. To apply, simply go to www.furryfriendsnetwork.com / ADOPT tab / CAT Adoption Application. You will receive a welcome email once your application has been assigned to a volunteer processor (this should be within 72 hours of submitting an application). If you do not receive such an email, contact catapplication@furryfriendsnetwork.org. Once your application has been processed (this can take approx. 10-14 days), we will arrange contact with the foster to schedule a time to meet kitties you might be interested in. We are an all volunteer organization and appreciate your patience during this process.
Foster Homes are needed in order to help more animals like this one. Please consider opening your heart and home to a homeless animal. Check out our website on how to become a Foster Parent! Visit www.furryfriendsnetwork.com and look under VOLUNTEER. Furry Friends Network provides our foster homes with food, litter, crates/carriers as needed and miscellaneous other supplies as well as veterinary care.
Bookmark our website to stay up to date on news, events, and fundraisers. Visit https://www.furryfriendsnetwork.org/.
You can also Like us on Facebook and follow us on Twitter.
DanikaMcPurr_GKohr
---