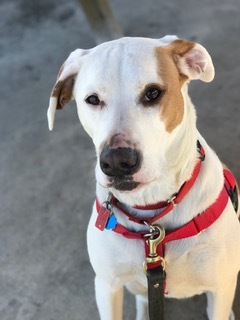 Posted 8/3/19. Biscuit is 2 year old Coonhound mix, weighing about 60 lbs, who lost his home when his owner moved on without him. He quickly resettled in his foster home and now is living with his foster family and several other dogs and doing very well. Biscuit is a big and handsome boy with beautiful coloring. When he looks at you with his big brown eyes, he will melt your heart. He is friendly and affectionate, but sometimes uncomfortable in new situations. He needs time to adapt, but usually that happens pretty quickly. He loves being outdoors in the yard, playing and running, and he enjoys going for walks. In fact, he does quite well on a leash and is a great walking partner. He is the kind of dog who has the power to quickly capture your heart and never let go.
Adoption application, home visit and adoption fee required. If you would like to apply for adoption, please complete the online application at www.furryfriendsnetwork.com. Look under ADOPT tab. Please also read Our Expectations prior to applying.
Foster Homes are desperately needed in order to help more animals like this one. Please consider opening your heart and home to a homeless animal. To find out more about becoming a Foster Parent, see our website at www.furryfriendsnetwork.com. Look under VOLUNTEER tab.
Pet ID: Stephanie G
---