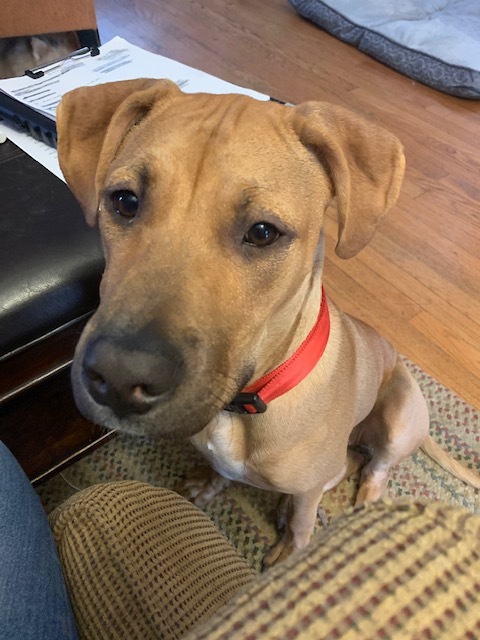 Posted 9/25/2019. Autumn is 6 months old, 40 lb, Labrador Retriever/Boxer mix. She is a sweet, submissive girl who does not have a mean bone in her body and has never met a stranger. Autumn enjoys being around her people and is great with kids of all ages. If your home has children, we do think they should be over 5 to live with Autumn since she gets excited and may knock the young ones down by accident. She also loves other dogs of all sizes, and she loves to run and play. She is living with two cats and often tries to play with them. A dog savvy cat would be best since she will chase cats who run from dogs.
Autumn came to foster care because her parents moved and left her behind. She was find in the home alone and was immediately taken into foster care.
Autumn is a puppy and is crated when her foster mom leaves the house. She is just a puppy and does chew if left uncrated. Autumn's adoptive home must include another dog at home with her.
Autumn is working on house training and doing well, although will occasionally have an accident. Right now she gets a puppy break every 4 hours.
Autumn does not enjoy the car, she is afraid and gets car sick if she's in the car for longer rides. We are working with her on this.
Autumn would like to find a home where she can go to doggie daycare once or twice a week. She is a puppy and a high energy girl. In addition to lots of outside play time with her housemates, she gets two one-hour walks a day. She walks well on the leash with the aid of an easy walk harness. Autumn likes having chew toys, bones and dog toys around to keep her occupied.
While she is a high energy dog, she settles down nicely and will happily chew a toy beside you on the couch. Autumn enjoys sleeping in bed with her foster mom and her snuggle time at night. She is an all around happy, sweet, bouncy puppy.
Adoption application, home visit and adoption fee required. If you would like to apply for adoption, please complete the online application at www.furryfriendsnetwork.com. Look under ADOPT tab. Please also read our Core Values prior to applying.
Foster Homes are desperately needed in order to help more animals like this one. Please consider opening your heart and home to a homeless animal. To find out more about becoming a Foster Parent, see our website at www.furryfriendsnetwork.com. Look under VOLUNTEER tab.
As part of our adoption agreement, we require that you and your adopted canine attend a minimum of one group basic obedience course within 4 months of adoption. If adopting a puppy under 4 months old, we also require a group puppy socialization course be started immediately upon adoption.
In addition, we require that puppies under 6 months of age will not be alone for more than 4 hours at a time in an 8 hour workday. We highly encourage working families to consider older puppies and adult dogs, but if your heart is set on a puppy, please consider doggie daycare.
Pet ID: Elaine Beachler
---