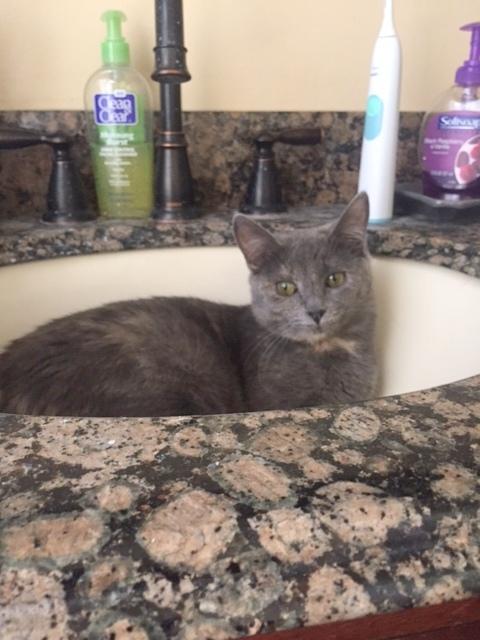 Approx DOB: Fall 2016
Amber is an active and sweet girl with beautiful gray and tan coloring! She is very affectionate and takes about a day to become comfortable with her human. Once comfortable she is non-stop at your side. If you move while she is lounging near-by, she will instantly be up and included in what you are doing. She is very adventurous which can sometimes lead to a bit of trouble, like climbing/jumping too high on furniture and not being sure how to get down. She will call out for help and once you get her down she struts away like she can't believe you removed her from that spot (the one she was crying from a moment ago). She also demands attention and will lay all over the place, on top of your work, laptop, or books (as I type this she is moving with my hands and rubbing her face on my hands and the screen!). Amber also will get in your face, climbing on your lap or chair nearby to voice her need to be seen and loved! She loves to be petted on her head and neck, she will roll herself around to make sure you are getting the correct spots all while purring away. Amber loves to cuddle, she will plop herself on your lap, wiggle and paw around until she is comfortable then move her head until it's under your hand so she can be petted to sleep! She enjoys sleeping very close to her human, this sometimes involves her being on the same pillow. She also is very obsessed with hair, she enjoys putting her paws in hair and attempting to lick or chew hair. It is an odd quirk but her attention can easily be diverted, throw a crinkle ball or a toy that makes noise and Amber is off! Amber loves to lie on the windowsill and watch what is going on outside. She is very interested in bugs and birds! One of her most recent favorite spots is the bathroom sink, she loves to lounge in there wet or dry and licks the water.
Amber does not enjoy blenders, nail clipping, and other extremely loud noises. She also does not like being left out-she feels that privacy is not needed and can climb around the edge of the tub while I am showering!
This kitty has had initial vaccinations, de-worming, flea preventative, tested negative for FeLV/FIV, and been micro-chipped and altered (or will be micro-chipped and altered prior to adoption).
Adoption fee is 1/2 off for the second kitty adopted at same time. Adoption application, phone interview, home visit, and adoption fee required (+ PA Sales tax).
If you are interested in adopting a kitty(s), we ask that you complete an on-line adoption application to get the process started. To apply, simply go to www.furryfriendsnetwork.com / ADOPT tab / CAT Adoption Application. You will receive a welcome email once your application has been assigned to a volunteer processor (this should be within 72 hours of submitting an application). If you do not receive such an email, contact ffncatapps@gmail.com. Once your application has been processed (this can take approx. 10-14 days), we will arrange contact with the foster to schedule a time to meet kitties you might be interested in. We are an all volunteer organization and appreciate your patience during this process.
Foster Homes are needed in order to help more animals like this one. Please consider opening your heart and home to a homeless animal. Check out our website on how to become a Foster Parent! Visit www.furryfriendsnetwork.com and look under VOLUNTEER. Furry Friends Network provides our foster homes with food, litter, crates/carriers as needed and miscellaneous other supplies as well as veterinary care.
Bookmark our website to stay up to date on news, events, and fundraisers. Visit https://www.furryfriendsnetwork.org/.
You can also Like us on Facebook and follow us on Twitter.
Amber_SScherer
---